| | | |
| --- | --- | --- |
| " | This place has a long history of the dragon trade... it's stained with the pain of dragons. | " |
|   | — Astrid |   |
Auction Island is one of four locations of Return to Dragon Island, which can be accessed via membership or buying it for 1,250 Gems.
Auction Island works just like The Great Hall: You are unable to use your dragon, because of it, you cannot active your dragon in any way possible. It's a medium-sized small, rocky mountainous island, surrounded by cliffs on the outside and with land on the inside. The player will be teleported to a seaport, with a large bridge going up.
In the middle-left of the Island, there's a small, round-ish, open place, with seats for a crowd on the right, various items on the opposite side, cages on the left side too but, on a different layer, and 2 Dragon Hunters (one is on the right of a fossilized giant tooth and close to a wall, the other is near the items but, it's only mission exclusive).
If the player goes to the left path (ignoring the Auction Zone), there's going to be a Dragon Hunter with a Cage (which is where the player will free the Singetail) and a large boat on the left side.
If the player goes to the opposite side of that zone (or goes to the right side before the Auction Zone and turns to the right again), there's going to be a small freshwater lake and, if the player proceeds on going left, you will find a path that goes down to a small bay with a small saltwater fishing spot.
Ways to Access
Edit
Characters
Edit
Fishing Spot
Edit
There's 2 spots of different water types.
There's one to the very up-left, which is a small freshwater lake;
The other one is by following the left path (from the lake), which will lead to a small saltwater bay.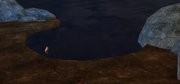 The New Auction Island
Edit

Shh! Careful, this may contain spoilers!
After the quest The New Auction Island from the Wrath of Stormheart expansion, Nikora Stormheart is the new leader of Auction Island, and the island is now adorned with Stormheart's banners and throne. The island time is also now set at night.
Community content is available under
CC-BY-SA
unless otherwise noted.