Aurora Lights is a special location in Icestorm Island.
It consists of a small ice isle, with a Fishing Spot behind it and, a huge open view of the Aurora Lights. The Auroras are reachable and can be touched.
The player will visit this location in a mission.
Ways to Access
Edit
The only way to access this location is by flying towards the Aurora Lights in Icestorm Island. If done successfully, you'll get a loading screen and be teleported to a small ice island.
Fishing Spot
Edit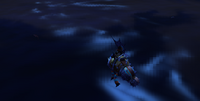 The fishing spot is saltwater and, it's in the middle of the sea.
This is the second place where you can fish with a Gronckle.
If the player looks closely to the left side, there's a floating telescope for unknown reasons.
Community content is available under
CC-BY-SA
unless otherwise noted.