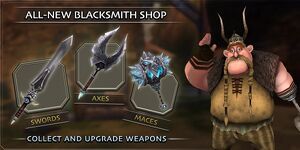 The Blacksmith is a special location located in Berk added with the v2.13 Update. This is one of the most crucial mechanisms for Dragon Tactics as this is where you can upgrade or dismantle your items, removing space and increase an item's stat. As for v3.0.0, New Berk has its own Blacksmith and just like the Old Berk's Blacksmith, New Berk's Blacksmtih can be explored on the inside. The Blacksmith is unlocked without any Level Requirement though the introductory quest is Ready for Tactics.
Location Overview
Edit

Warning! This page is a work in progress!
---
Ways of Access
Edit
In order to access it, the player has to click on the sparkling anvil, the anvil and hammer icon in the customization screen or in the detail screen in Dragon Tactics.
(These are the wiki admins opinions, you are free to do as you wish of course)
Save your shards for Legendary items. You will eventually get them, and your shards will be better spent on those.
Do NOT buy shards with gems. Re-rolling is a gamble, save your gems for something sure like eggs or stables. The % chance the game shows are WAY HIGHER then the real ones, and you might end up wasting more shards than planned re-rolling even at supposedly high chances.
Re-rolling an item is not currently adviced. Being it totally random, you might end up losing an useful Attribute and getting something you didn't want. If the item you want to use lack of some Attribute you need, try to compensate for it with other Battle Equipment.
Re-rolling a stat is only adviced for higher rarity items. And only if their current stats are somewhere in the middle of their range. The closer the value to the higher end, the lower the success % chance.
Do not be afraid of dismantling lower rarity or tier items when you get something better. Backpack slots are limited. The only repeated items you should keep are different Element weapons - they might be useful in later levels. Different kind of weapons have different ATK power, you might want to check them out to decide which ones to keep.
Higher tier items have better attribute ranges than lower tier - next rarity items, but keep in mind that higher rarity items have more Attributes. So make your calculation when choosing among a Rare T2 and an Epic T1.
Community content is available under
CC-BY-SA
unless otherwise noted.