Curse of the Hobgobbler is the ninth expansion pack released in School of Dragons[1]. It was released on July 31st, 2019, as part of version 3.2.0, though the Expansion was partially released with the price of 1,000 Gems

until it was fully released with a price of 1,250

.
This summer the twins have been pulling all sorts of pranks but not all have gone quite as planned, and now they need as much help as possible to restore peace at the school grounds. As usual Ruffnut and Tuffnut are up to no good and in hopes of pestering the dearest Gobber, they have managed to get their hands on a couple of Hobgobblers that ultimately get out of control. Now with Hobgobblers running lose across the entire Isle of New Berk, Vikings will have to rise to the challenge and control all the scattered Hobgobblers. That's not all! Gobber is convinced that these dragons have brought upon a bad omen and must now be returned to where they came from, leading Vikings to discover a marvelous cave entrance down into the Hidden World! [1]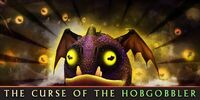 Shh! Careful, this may contain spoilers!
The first quest of the expansion, A Gobble Problem is free for all players, Dragon Tactics level included.
For unknown reasons, the Startup Curse of the Hobgobbler ad is a bit squashed than usual in the game's assets.
Expansion Packs
Icestorm Island •
Call of the Death Song •
Battle for the Edge •
Return to Dragon Island

Secret of the Leviathan •
Rise of Stormheart •
Wrath of Stormheart •
The Hidden World
Curse of the Hobgobbler
Community content is available under
CC-BY-SA
unless otherwise noted.