Glacier Island is one of the eight islands of Battle for the Edge expansion pack.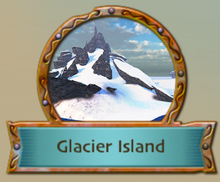 It can be accessed only after the purchase of the expansion or with membership.
On this island, the white of snow and ice is interrupted only by the black of rocky pillars. There are two ice caves.
There are no characters and World Map stand in this location.
Dragons that live on the Island
Edit
Fishing spots
Edit
There are two saltwater fishing spots along the shore