Hobblegrunt Island is one of the eight islands of Battle for the Edge expansion pack.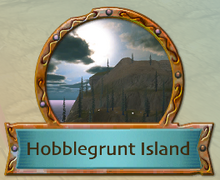 It can be accessed by all players, without the need of the purchase of the expansion or membership.
Always set at night, it's a big island with rocky terraces covered in meadows, and scattered woods. It's a nesting site for Hobblegrunts.
There are no characters in this location.
There is a Teleporter in this location, unlike the other dragon islands of the expansion.
Dragons that live on the Island
Edit
Ways to Access
Edit
Fishing spots
Edit
There is one saltwater fishing spot, on the shore on the right of the landing spot