Hiccup: "Look at that! Our frosty pal seems much happier now that we're here. If we search around, we could probably find other Groncicles--maybe even a nest! Unless he's the only one of his kind... Like Toothless.

Well, it's too early to give up hope. I'm sure we'll find more of his kind.
First, we should build him a small nest so that he's comfortable. How about that snow field over here?"
1- Look for a nesting spot on the island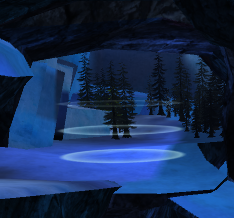 Hiccup: "On second thought, this snow field is pretty exposed. There's no protection from the icy wind coming from the sea.

That wooded area over there might be a better spot for a nest. Lead the way!"
2- Find a sheltered spot for the nest
Hiccup: "This spot is perfect. Trees provide shelter for many creatures, including dragons. No sight of other dragons yet. We'll keep our eyes peeled. In the meantime, let's make him a cozy nest.

He seems to like soft snow, so let's build his nest out of the fresh snow from the tree branches instead of the hard-packed snow on the ground. Try hitting that tree with your axe to knock some of the snow off its branches."
3- Click/Tap on the tree and knock snow off of its branches
Hiccup: "Perfect!

Now bring the snow to the spot we picked out. We'll make a nice nest for him."
4- Bring snow to make the nest

5- Talk to Hiccup
| | |
| --- | --- |
| | Hiccup: "Don't worry, he'll be more comfortable away from the warm campfires. Just remember to visit him every once in a while. Toothless and I will keep and eye on him too. Thanks for the help!" |
Community content is available under
CC-BY-SA
unless otherwise noted.