On Computer:
Edit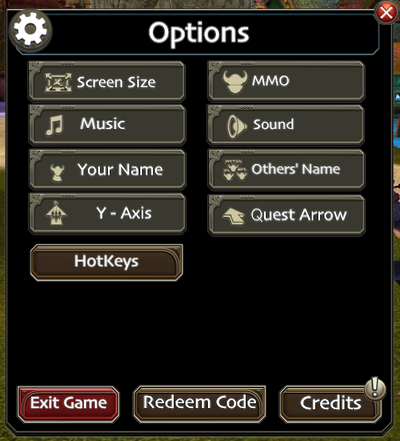 Screen Size: to toggle between full screen size and smaller window. Not available on Facebook Gameroom and Windows apps.
MMO : to switch on/off the Multiplayer option. For slower connections or less powerful devices, it is advised to switch off the MMO, that causes a slower game.
Music and Sound: to switch on/off the background music or sound effects
Your name and Others' Name: make visible or hide yours and others' name above the Vikings
Y - Axis: this determines the action of the Up arrow / W key when you'r flying. In the image above, it is set on the option that will make your dragon fly up using those keys. The other option will make your dragon dive.
Quest Arrow: to show or hide the arrow that points you to your target while doing quests.
Hotkeys: shortcuts you can use on your keyboard. See dedicated tab.
Exit Game: It will close the current section and bring you to the Viking Selection page.
Redeem Code: here is where you type in promotional codes for a reward. The reward will appear in your Backpack under Quest Items (see Viking Menu tab).
Credits: it will teleport you to Credits Island
On Mobile:
Edit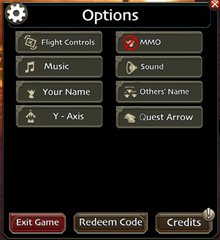 Flight Controls: you can either choose to control your dragon in flight by tilting your mobile (option shown above), or by using a virtual joystick like the one that controls your Viking's movements.
The other options are the same as in the Computer app.
Community content is available under
CC-BY-SA
unless otherwise noted.