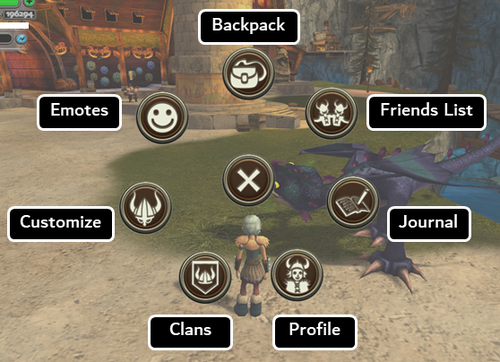 This Menu appears when you click on your Viking.
It leads you to:
Backpack: where you can find all items from quests, fishing and farming, rewards, eggs and saddles. You can use the saddle section to directly equip your active dragon's saddle with a simple click.
Friends List: here you can find your Friend Code, your list of Online, Offline and Ignored friends, pending Friend requests, and where you can add friends by their Friend Code.
Journal: it opens your Adventurer's Journal.
Profile: It shows details of your Viking: their level, number of trophies, clan, trainer title, list of dragons, nationality and gender.
Clans: you can see your Clan members, details, Achievements and Messages, search for a Clan, and check the Clans Ranking.
Customize: it opens the Adventurer's Journal section amount customizing your Viking aspect and clothing.
Emotes: you can choose an Emote, that will appear above your Viking, and that other players (when MMO is on) can see.
In the mobile app, an additional Message button is shown, where you can access messages from other users and challenge requests.
Community content is available under
CC-BY-SA
unless otherwise noted.