Melody Island is one of the three locations of Call of the Deathsong expansion pack.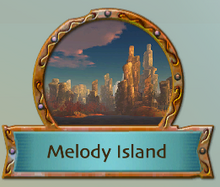 It can be accessed only after the purchase of the expansion or membership.
A lonely place, no dragon dares to approach it, or it will be soon find itself trapped in the amber of the Death Song.
There are no characters and World Map stand in this location.
Dragons that live on the Island
Edit
Fishing spots
Edit
There are two saltwater fishing spots:
one inside the cave by the Deathsong's nest
one on the shore