This page is under heavy construction!
Please refrain from editing this page. Better general image soon and more information soon.
---
New Berk is a Starter location added in February 21st, 2019, as part of v3.0.0 - Hidden World Update. After the events of the 3rd film installment, New Berk becomes a new home for all the residents from Old Berk including a whole new look for The Great Hall, a new entrance for the Stables and Loki's Maze, a new explorable look for the Blacksmith and the new location for old Berk's Store hut. The location is also introduced in The Stormheart Conundrum from The Hidden World Expansion.
Description
Edit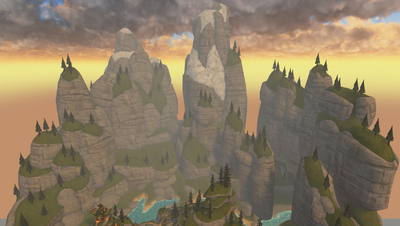 New Berk is a enormous island elevated from the sea levels and it potentially bigger and wider than the old Berk (though very toned down in the game), following its appearance in How To Train Your Dragon: The Hidden World, the New Berk is contains a caldera-like formation inside of the main mountainous border, similiar to the likes of The Lookout, the underground lake forms a group of plunged waterfalls segmented into multiple lakes that fall into the ocean. Because New Berk is toned down in the game, the dense forestation seen in the movie is reduced to groups of trees in the mountains. Though, just like Berk, the Flight Boundary is rather large and players can fly as high as the tallest mountain .
Within the center of New Berk, the toned down version of the
Fishing Spots
Edit
New Berk kept the major two fishing spots from Old Berk while also containing a whole new spot for players to fish.
A freshwater spot is located to the right side of the Stables entrance, folow the wooden path and you will see Mulch standing by it;
A freshwater spot is located right behind the large scarped slope, on the bottom lake below the main land;
A saltwater spot is located in the ocean, on the far bottom right of all the waterfalls;
In-Game Details
Edit
Ways of Access
Edit
By clicking on "New Berk" in the World Map
Characters present in this location
Edit
March 1st, 2019 Patch: Snotlout's hut was added.
Community content is available under
CC-BY-SA
unless otherwise noted.