The Sentinel is a Boulder Class dragon released on March 12th, 2018. It can be purchased for 750 gems (600 for members).
In November 6th, 2018, the Sentinel received a Titan Stage.
Description
Edit
From the How to Train Your Dragon Wiki:
"Although sightless, the Sentinels still keep close watch over the dragon graveyard on the Isle of Vanaheim.
Often mistaken for stone statues, the Sentinels remain absolutely still when they allow ailing dragons to enter Vanaheim. But at first hint of an intruder, these sentries defend the sacred burial ground with sonic screeches and downdraft wingblasts.
Born blind, sentinels have evolved their senses of hearing and smell to hyper-keen levels, making them incredibly alert. Yet despite their fearsome appearance, Sentinels show a a softer side by caring for the old and ill dragons who have come to spend their final days on Vanaheim.
If you're unsure how to handle an unfamiliar type of dragon, just follow a Sentinel's lead. These observant dragons have kept vigil over every class and every breed to pass into their cemetery, making them the dragon experts of the dragon world."
For more information on the Sentinel, click here.

The Elder Sentinel is the exclusive counterpart of the Sentinel which can be only awarded by completing the quest The New Auction Island from Wrath of Stormheart.
Description
Edit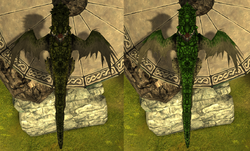 Similiar to the Alpha Speed Stinger, the Elder Sentinel is a special Sentinel that has one or more features that differentiates them from the normal Sentinels, making them easier to spot.
In this case, the Elder has a noticeable "crown" of spikes, slightly bigger dorsal spikes, a much buffier built than the normal counterpart and a more darker coloring, the "veins" are also bigger and more easier to be noticed as well as the Elder's claws and teeth, being bigger and taller.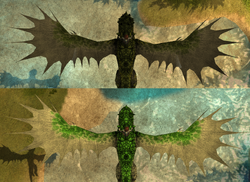 The Elder's wingspan is a little bigger, as well has the wing's spike. Despite being a little bigger, they both share the exact same amount of fingers.
It is possible to receive two Elders instead of one.
Sentinel
Elder Sentinel
Level
ATK
FPR
HPR
Health
ATK
FPR
HPR
Health
1
6
7
5
178
6
5
170
2
12
14
10
256
12
10
240
3
18
22
15
334
18
15
310
4
24
29
20
412
24
20
380
5
30
36
25
490
30
25
450
6
36
43
30
568
36
49
30
520
7
42
35
646
42
57
35
590
8
48
40
724
48
65
40
660
9
54
45
802
54
45
730
10
60
50
880
60
50
800
11
66
55
958
66
55
870
12
72
60
1036
72
60
940
13
78
65
1114
78
65
1010
14
84
70
1192
84
70
1080
15
90
75
1270
90
75
1150
16
96
80
1348
96
80
1220
17
102
85
1426
102
85
1290
18
108
90
1504
108
90
1360
19
114
95
1582
114
95
1430
20
120
100
1660
120
100
1500
21
126
105
1738
126
170
105
1570
22
132
110
1816
132
178
110
1640
23
138
115
1894
138
115
1710
24
144
120
1972
144
120
1780
25
150
125
2050
150
125
1850
26
156
130
2128
156
130
1920
27
162
135
2206
162
135
1990
28
168
140
2284
168
140
2060
29
174
145
2362
174
145
2130
30
180
216
150
2440
180
150
2200
31
186
223
155
2518
32
192
230
160
2596
33
198
238
165
2674
34
35
36
37
38
39
40
41
42
252
340
210
3040
43
258
348
215
3110
44
264
220
3180
45
270
365
225
3250
46
276
230
3320
47
282
381
235
3390
48
288
389
240
3460
49
294
397
245
3530
50
300
250
3600
Titan Dragons
•
•
•
•
•
•
•
•
•
•
•
•
•
•
•
•
•
•
•
•
•
•
•
•
•
•
•
•
•
•
•
•
•
•
•
•
•
•
•
•